Trenchless Underground Sewer and Drain Repair Services in Ventura County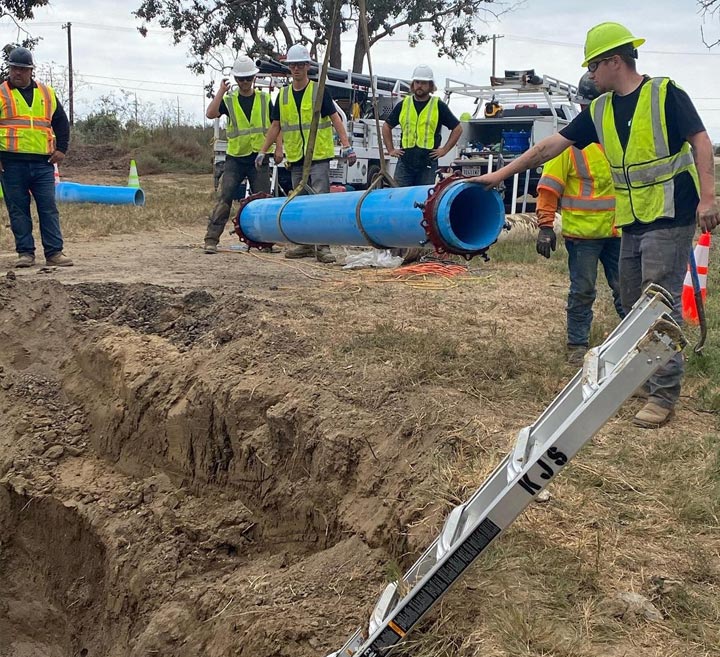 Though we rely on our sewer system daily, we barely ever think about underground sewers and drains. Well, not until there's a major problem.
A blocked, damaged, or misaligned underground pipe is a nightmare for buildings of all sizes – both commercial and residential. When not dealt with, underground pipe damage could lead to plumbing nightmares such as severe pipe damage, septic tank back up, or worse. If you thought it couldn't get worse, you're wrong. Underground pipe repairs could put a dent on your wallet and leave your yard looking like a construction zone due to the trench digging and restoration process. However, you can avoid all these by using the proper sewer repair method.
That's where our Ventura County trenchless sewer repair and replacement services come in.
Table of Contents
What is Trenchless Sewer Pipe Repair?
How Does Trenchless Sewer Pipe Repair Work?
What are the Warning Signs of a Damaged or Backed Up Underground Sewer/Pipe?
Benefits of Trenchless Pipe Repair
What are the Different Types of Trenchless Sewer Repairs?

» Pipe Lining
» Pipe Bursting
» Directional Drilling
Which Trenchless Sewer Repair Method Should I Choose?

» Environmental Friendliness
» Durability
» Turnaround
» Cost

Looking for a Trenchless Sewer Repair and Replacement Company Serving Ventura County?
What is Trenchless Sewer Pipe Repair?
So, what does trenchless sewer repair entail?
In its simplest definition, the term "trenchless" essentially means "without trenches." So, trenchless sewer repair is a method of sewer repair that replaces a sewer pipe without trenching.
Pipes often suffer deterioration, corrosion, and damage when buried in the ground for a long time.
Fixing the issue could mean digging up the pipe to repair it, but this is a rather costly approach. Instead, we use the trenchless process, which involves no digging. If you do end up with a malfunctioning sewer line or worn-out drain, trenchless pipe lining is your quickest and least invasive repair
Also Read: An Ultimate Guide to Sewer Line Preventative Maintenance
How Does Trenchless Sewer Pipe Repair Work?
So, how exactly does trenchless sewer repair work?
After inspecting and cleaning your sewer lines, a high-tech, flexible, epoxy-saturated tube (liner) is installed directly into your existing drainage pipes. Since the liner starts flexible, it's able to navigate around your plumbing bends, plumbing connections, and even diameter changes.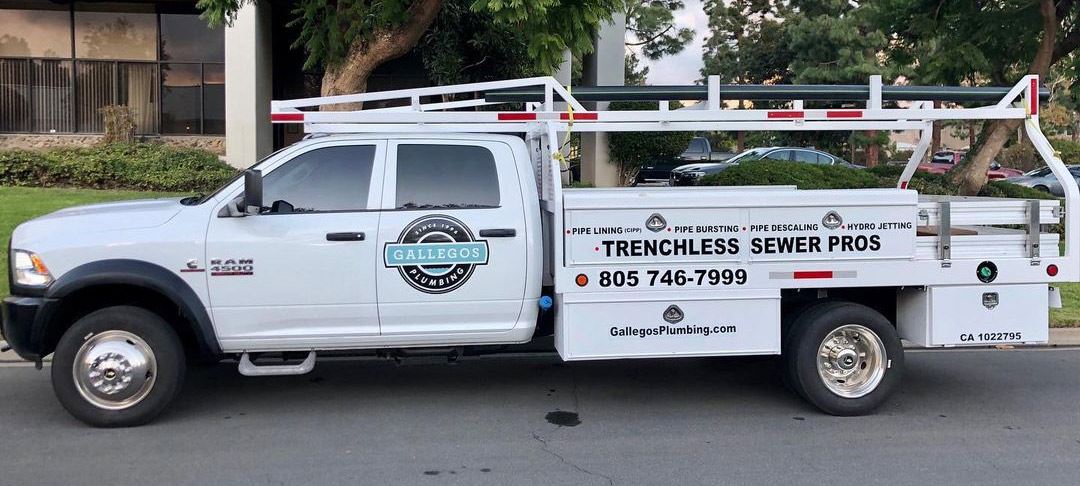 It does not matter if your old pipes had corrosion, cracks, holes, age deterioration, channeling, scaling, or root intrusion. Once the epoxy liner hardens, it is 100% sealed and solid. It locks out all of the old issues by forming a new, structural surface, essentially creating a new pipe within the old pipe.
The epoxy liner's surface is generally smoother than older sewer materials, enhancing the ease of use and flow capacity. Oh! And to also mention that the newly installed liner has a life-use expectancy of 50 years?
Once the new lining is in place, our robotics technician guides specialized robotic equipment through the pipes to reopen branchlines. This hi-tech equipment comes with live cameras that allow the operator to view inside the sewer lines and verify that the entire drainage system is functioning optimally.
Say goodbye to the expensive and tedious excavation that comes along with traditional piping repairs. Give Gallegos Plumbing a call for trenchless sewer repair and replacement services in Ventura County.
What are the Warning Signs of a Damaged or Backed Up Underground Sewer/Pipe?
Clogged, damaged, or misaligned underground pipes might lead to severe issues that can disrupt your drain or sewer system and put your employees, family, pets, or even yourself at risk.
The effects of damaged underground pipes include:
Foul odor from sewage back up

Flooding and water damage

Water contamination

Destruction of lawns, yards, and gardens

Irreversible pipe damage
 Benefits of Trenchless Pipe Repair
Here are just a few reasons why trenchless pipe repair services might benefit you and your home.
Cleaner – You won't have to dig up and spoil your lush yard for trenchless pipe repair.

Faster – Trenchless pipe lining takes one day, not weeks. By eliminating the lengthy excavation process, you increase the speed of your repair.

 

Cost-Effective – Trenchless pipe repair costs about 50% less than excavation because less labor means less money!

 

Better Functionality – Trenchless pipe lining lasts decades.

High Quality – Using cured-in-place liners provides joint-free piping, preventing corrosion, cracks, and tree root infiltration.

Save your tile, wood, and marble  – It's hard to find similar floor surfaces from decades ago.

It deals with pipe leaks – A single layer of pipe lining might be enough to stop leaks for good.
Well, don't wait any longer! It's time to contact Gallegos Plumbing for comprehensive sewer pipe repair services.
What are the Different Types of Trenchless Sewer Repairs?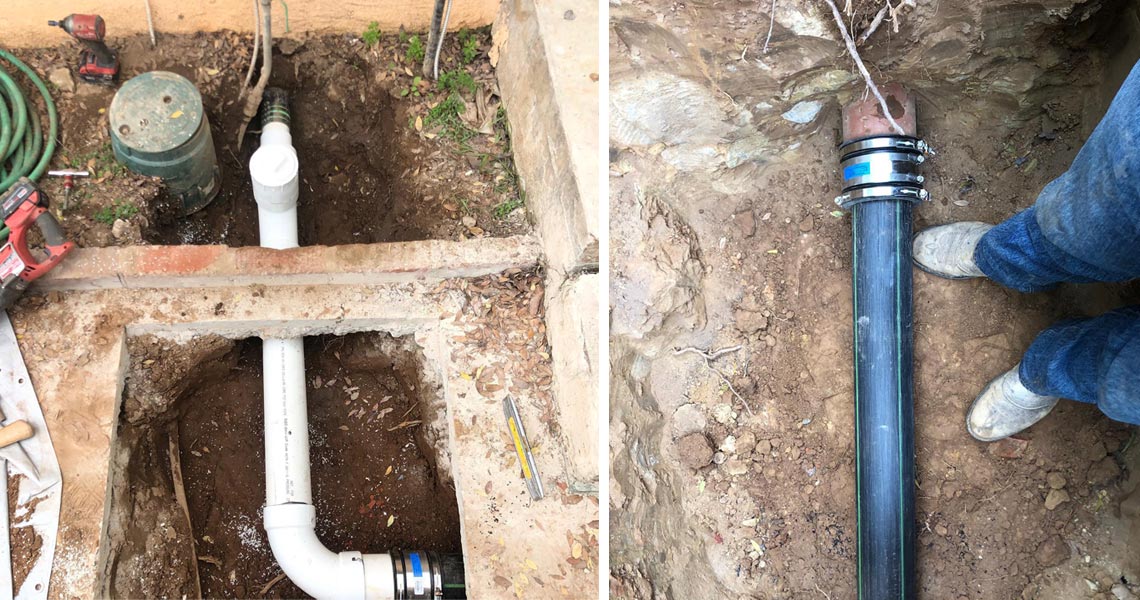 While most people are familiar with only pipe lining, there are three primary trenchless sewer repair and replacement methods. These are:
Trenchless pipe lining

Pipe bursting

Directional drilling
Our plumbing professionals at Gallegos Plumbing will evaluate the extent of damage on your sewer pipes and guide you on which method to choose based on your budget.
So, what's the difference between trenchless pipe lining, pipe bursting, and directional drilling?
» Pipe Lining
Also known as cured-in-place pipe lining (CIPP), trenchless pipe lining utilizes a flexible tube coated with resin. This tube is fed through your damaged pipe and expands until it molds to the circumference of your current plumbing. The resin then hardens, creating a virtually new line that lives within the old host pipe. The new pipe is resistant to corrosion and can serve your home for many birthdays to come.
We can restore any pipe through trenchless pipe lining. You don't need to dig up floors or walls, and the pipe lining installation takes approximately one day and costs about 50% as much as the traditional excavation method.
» Pipe Bursting
Pipe bursting is a non-invasive sewer repair method that intentionally breaks and expands the existing pipe while simultaneously filling the space this old pipe used to inhabit with new high-density polyethylene pipes.
This trenchless sewer line replacement method does not require the use of added chemicals or other contaminants. That, coupled with the long lifespan of the environmentally-safe HDPE pipes, makes pipe bursting an effective, efficient, and very sustainable method to replace failing, outdated or undersized sewer lines.
» Directional Drilling
Also referred to as directional boring or horizontal directional drilling (HDD), this is a minimal impact method of installing new underground pipes in a relatively shallow arc along a prescribed underground path using a surface-launched drilling rig.
The drilling machine bores into the ground to a certain depth, ideally several feet below the existing pipe. It then drills horizontally for the entire length of the line that needs replacing. Dirt and debris are then extracted from the tunnel before a new pipe gets inserted and connected to the existing pipe network.
We usually use this method when replacing or repairing the existing sewer line using the other trenchless methods is extremely difficult, time-consuming, and expensive.
Now that you understand how our various pipe restoration services work, give Gallegos Plumbing a call at (805) 243-2622 to discuss your sewer repair project.
Also Read: Types of Sewer Pipe: Tips for Choosing the Right Plumbing Pipe
Which Trenchless Sewer Repair Method Should I Choose?
Pipe lining vs. pipe bursting vs. directional drilling. Which trenchless sewer repair method should you choose?
Here are several factors you should consider when choosing the trenchless pipe repair method that best suits your needs:
» Environmental Friendliness
With its effectiveness and capability to minimize pollution when performing underground installations, directional drilling is currently the most eco-friendly drilling method.
So, what about pipe bursting and pipe lining (CIPP)?
Pipe bursting is more friendly to the environment than CIPP because it doesn't involve using any chemicals with contaminants. If not done correctly, the slip sewer lining method can release pollutants into utility lines and the environment. Pipe bursting is thus safer than CIPP.
» Durability
Which is the most durable trenchless sewer repair method?
According to expert plumbers at Gallegos Plumbing, pipe lining, pipe bursting, and directional drilling are long-lasting trenchless sewer repair methods. All three methods are proven to last at least five decades, so you can have peace of mind when choosing.
However, the pipe lining method may not last as long as the pipe bursting or directional drilling method because of the reduction in diameter from the original sewer piping. In contrast, the pipe bursting and directional drilling methods both establish a whole new pipe that can last longer than the pipe within a pipe method.
» Turnaround
The pipe bursting trenchless sewer repair method is faster because it only takes a single day. Since CIPP needs a curing process that may take up to 30 hours, it may take longer to restore the sewer line services to normal.
» Cost
The price of trenchless sewer repair and replacement varies since it relies on various factors such as the type of soil, the depth of the sewer line, the prices of repair materials, and the plumber.
On average, pipe lining costs $80 to $250 per foot, while pipe bursting costs between $60-$200 per foot.
Did you know that traditional methods that involve digging may cost slightly less? However, when you factor in the costs of repairing and replacing damaged landscape features, the final price might be a lot higher.
Also Read: How to Repair Bellied Sewer Pipe
Looking for a Trenchless Sewer Repair and Replacement Company Serving Ventura County?

We Are Ventura County's Pipe Lining Experts. Call Us Today at (805) 243-2622!
Since 1996 homeowners and businesses in Ventura County have relied on Gallegos Plumbing for fast, affordable 24-hour emergency sewer and drain services.
Our pipe repair specialists offer the most advanced sewer pipe repair and sewer inspection services in the region. We are the original company that introduced trenchless pipe lining to Ventura County! Gallegos Plumbing is devoted to helping you get your home or business back to working order – so you can spend your time and money on what matters most.
Schedule a Visit
Gallegos Plumbing also offers the following services:
Trenchless Pipe Lining Ventura County

Trenchless Pipe Repair Ventura County

Sewer Camera Inspection Services Ventura County

Drain Cleaning Ventura County

Drain Inspection Ventura County

Sewer Lateral Lining Repair Ventura County
Find out what makes us #1 in Ventura County trenchless sewer pipe repair.
Call us today at (805) 243-2622 to get a free quote or schedule an appointment online.