Many homeowners prefer replacing their used water heater with the same type they have been using for years. Typically, a water heater runs on electricity or gas and provides hot water for your home needs, such as bathing, washing clothes, and dishes.
Remember that choosing the right water heater is essential to ensure a sufficient hot water supply in your home. It doesn't end here; a water heater should also consume minimal energy so that you can save money and protect the environment.
If you're looking to replace your water heater or water heater repair and installation services in Thousand Oaks, Newbury Park and throughout Ventura County, Gallegos Plumbing helps you to consider all aspects to make the right deal. In this regard, the guide includes everything you should know to choose a great water heater.
Let's get started!
Table of Contents
Factors to Consider When Choosing the Right Water Heater
Water Heater Capacity
Types of Water Heater
Warranty
Fuel Type
Energy to Heat Your Home's Water Heater

Electricity
Fuel oil
Geothermal Energy
Natural gas
Solar Energy
Conventional Storage-Tank Water Heaters
Tankless Water Heater
Heat Pump Water Heater
Solar Water Heater
Why Buy Energy Efficient Water Heater?
Tips for Lowering Your Water Heater's Energy Usage
Making Your Decision with Water Heater Experts
Factors to Consider When Choosing the Right Water Heater
Who doesn't want to have a reliable and steady supply of hot water?
Regardless of why you're buying a new water heater, considering certain factors will benefit you in the long run. Know that several factors go into buying an efficient water heater and cost-savvy. Here we have listed a few of them so that you can make the most of your water heater.
Water Heater Capacity
A tank heater can typically hold 50 to 55 gallons of water. You must consider a water heater's capacity as it varies in size and depends on how many people live in your house. The peak of maximum water usage is another thing you need to take into account when gauging capacity.
For instance, if your family has four members who take a shower multiple times, wash dishes, or do laundry by using an average of 100-gallons of hot water, it doesn't mean that your family needs a tank with 100 gallons of storage.
Most water heaters use an hour rating system, which depends on the number of gallons a heart can produce in an hour.
Types of Water Heater
You may find a wide variety of water heaters in the market as there are many types. You can choose a water heating device depending on your water usage.
However, make sure to do some research to understand each type's features and pick one that fits your needs the best. Some common water heater types include a storage tank, heat pump, and tankless water heater.
Warranty
Warranty is another important feature to consider when buying a hot water heater. Typically, the machine comes with three to twelve years of warranty. People tend to choose water heaters with the longest warranty as they have larger elements and thicker insulation to reduce energy costs.
Fuel Type
You can choose different energy sources to heat your water heater, including gas, solar, geothermal, and electricity. You need to choose one according to your needs.
Trust the expertise of Gallegos Plumbing and get immediate assistance for professional plumbing services and water heater services in Thousand Oaks and Newbury Park to address the problem timely. Give us a call now at (805) 243-2622.
Let's delve into the details to find more about the energy sources that heat the water heater in your home.
Energy to Heat Your Home's Water Heater
As mentioned above, heating water requires energy. And energy sources depend upon three basic components; the cost, availability of sources, and the type of water heater you install. Take a look at the details to explore more about your options.
» Electricity
Electricity is one of the widely available energies in the US to fuel storage, demand-type, storage, and heat pump water heaters. You can use a combination of a space heating system and water that may include an indirect water heater and tankless coil.
» Fuel oil
Commonly used to fuel traditional water heaters, space heating systems, and indirect combination water
» Geothermal Energy
Available for people who have a geothermal heat pumping system installed for space cooling and heating.
» Natural gas
Natural gas makes a good choice for on-demand water heaters if your house has gas.
» Solar Energy
Another option for a water heater is solar energy if you live in warm and sunny climates. It is an excellent way to save money significantly on total energy costs.
The most common type of water heater is storage tanks. The conventional model comprises insulated tanks to heat and store water. It has a pipe on the top to pull the water when needed. These tank water heaters run on natural gas and typically have less energy cost than electric water heaters.
Pros
Offers a variety of fueling choices available in different models
Uses simple technology and heating elements
Cost-effective
Cons
Requires to maintain the water temperature; thus, it consumes energy all-day
May have higher operating cost if you don't have programmable thermostats
Fuel Options
Tank water heaters have multiple fueling options such as;
Electricity– low buying cost but may have a higher operating cost
Gas– typically higher buying cost but the low operating cost (check compatibility with propane)
Geothermal– a solar water heating system employs a storage tank but have specific requirements
Size Options
The first-hour rating is important to consider when sizing a conventional storage tank. Match the number of hot water gallon your heater produces in an hour with the peak demand for water usage in the home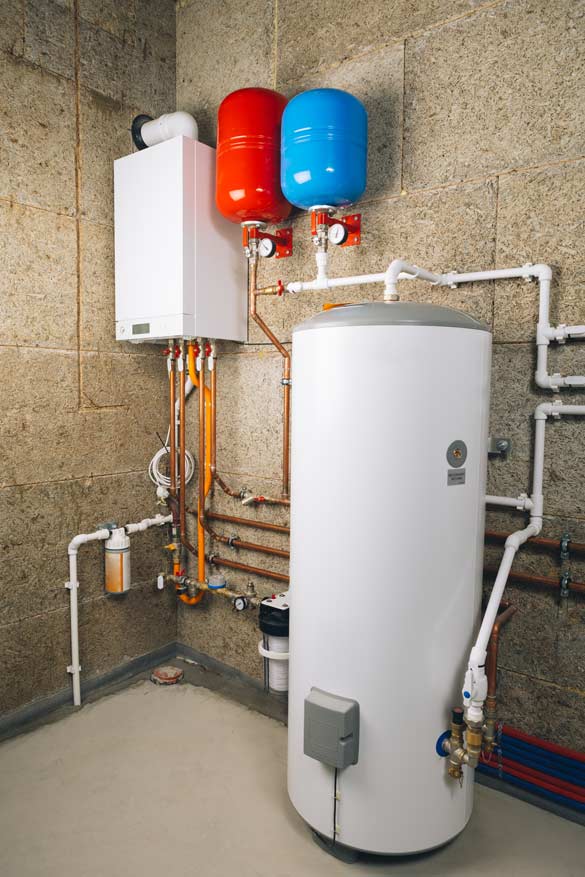 Tankless Water Heater
As mentioned in the title, a tankless water heater provides hot water only when you need it. That means there is no excess cost of standby operations like conventional storage water heaters. Using gas or electricity, tankless heaters supply water through a pipe in the machine, so you don't need to store hot water in the tank.
Pros
Space savvy and smart choice for small houses
Can rake up saving for energy use as you don't need to heat water continually
Easy-to-install anywhere without having to resize the house
Cons
High chances of outstripped capacity during extra water usage if not sized properly
High purchase cost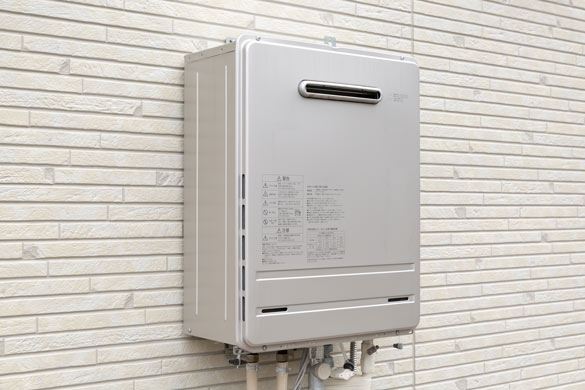 Fuel Options
Electricity – electricity is a practical option for using a tankless water heater as they don't have standby cost
Gas – operating water heaters with gas has a benefit of high flow rate and faster heating
Size Options
Temperature and flow rates are two key factors to determine the size of a tankless water heater. Also, consider the flow rate of other devices using hot water at the same time. Hire a plumbing professional to get input on your home situation.
Heat Pump Water Heater
As a variation of traditional storage water heater, it doesn't generate heat using a gas burner and electric elements. It draws outside heat to concentrate on the unit. Heat pump water heaters are more energy efficient compared to gas storage and electricity. The units also use geothermal energy by drawing the temperature from the outside air.
Pros
Substantially saves energy by taking heat from the surroundings
Cons
Not a good choice for colder climate and need a specific temperature to heat the water
Higher initial outlay cost
Size Options
The heat pump water heater has the same storage method as the storage water heater. Determine the size with the first-hour rating. Match the expected peak water usage with the number of gallons produced during the first hour.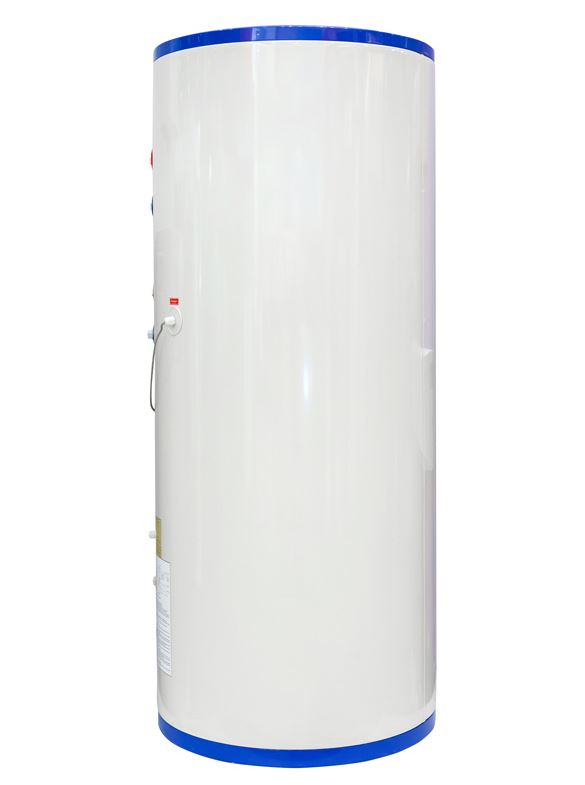 Solar Water Heater
The solar water heater is a cost-effective and practical solution for hot water supply in your home. It comes with powerful solar collectors that heat water by using sunlight and store water in the tanks. Invest in the active solar system for electrically powered pumps or opt for an indirect circulation system to heat water through heat-transfer fluid if you live in a colder climate. You can also choose a passive system for less maintenance requirements.
Pros
Remarkable energy efficiency at minimal cost
Free energy provides good ROI
Cons
Depends on sunshine and climate variables
Size Options
Sizing for a solar water heater is challenging as you need a good amount of space for solar collectors. Its storage volume must meet your water usage needs.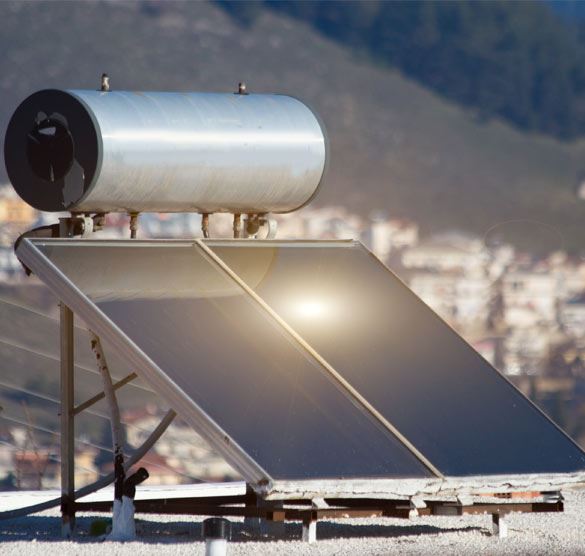 Why Buy Energy Efficient Water Heater?
The water heating cost consumes more than 20 to 30 percent of a total of your household budget. Despite a huge expense, many people tend to ignore repairing or replacing their water heater until it breaks down and floods the basement. Old water heaters usually have low efficiency and higher operating and maintaining costs. However, investing in energy-efficient water heaters can reduce heating costs while offering higher efficiency.
Tips for Lowering Your Water Heater's Energy Usage
Fit aerators in taps and faucets to decrease hot water consumption
Keep the thermostat on water heat to not more than 120 °F
Repair leakage in showerheads and faucets to reduce the cost by $1 monthly
Prevent heat transfer by draining a quart of water from the tank after three months
Avoid taking long baths as they use more hot water
Making Your Decision with Water Heater Experts in Ventura County, Gallegos Plumbing
Once you're familiar with all the water heating system types, you need professional guidance to make an educated decision. This is when you need the service of professionals like Ventura County, Gallegos Plumbing. Our team excels at commercial and residential plumbing, trenchless sewer replacement, and drain lateral repairs with decades of experience.
Headquartered in Ventura, our competent team of plumbers serves contractors, realtors, homeowners, and property managers primarily in Thousand Oaks and Newbury Park. Whether it is about repairing gas piping, installing water heaters, or fixing leakage, we provide the best services.
Get in touch with us by clicking here or call us at (805) 243-2622!