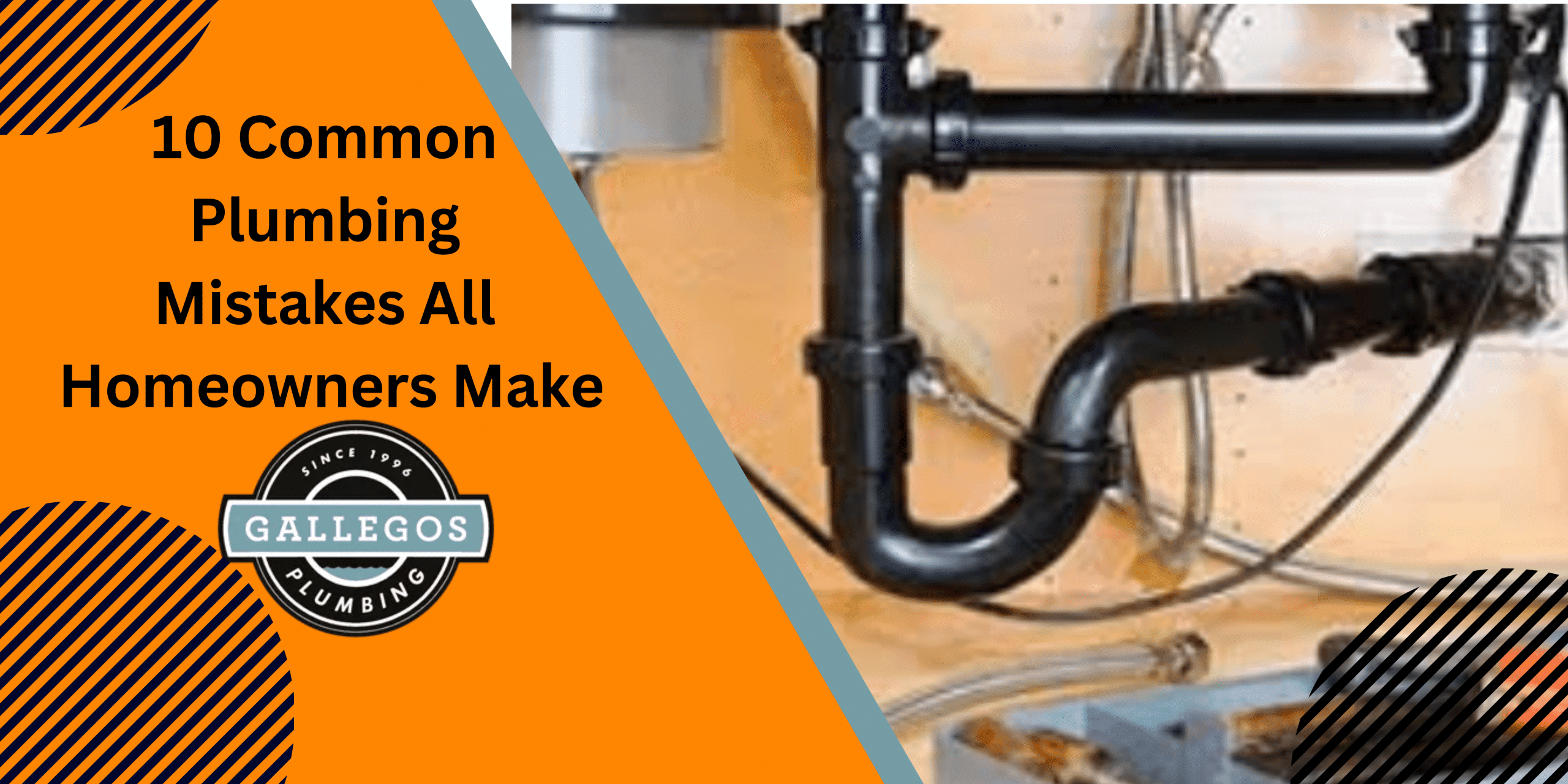 Taking on plumbing projects fills many homeowners with pride. After all, it's a great feeling to be able to take care of your own home. Others want to do plumbing repairs to save money. These DIY projects, however, often end up as costly plumbing mistakes that require a professional to fix. 
If you're keen to get some work done around the house, that's great! You just need to know which projects are better suited to professionals. Here are the most common plumbing mistakes you that homeowners make that should be double checked:
Table of Contents
Not Shutting off the Water Before the Project
Doing Plumbing Work Without a Permit
Working with Inappropriate Tools
Poorly Planned Renovation Work
Reasons Overtightening the Pieces
Joining Copper and Galvanized Pipes
Ignoring Small Leaks
Using Drain Cleaners
Throwing Trash in the Toilet
Trying to Save Money on the Plumber
Get in Touch with the Oxnard Water Heater Experts at Gallegos Plumbing
Not Shutting off the Water Before the Project
Every plumbing project should start by turning off the water. If you forget this step before starting the job, you'll face burst pipes and flooding—not ideal when you want to get some work done! Turning off the water is simple and all you need to do is learn the layout of your home's plumbing system to identify the shut-off valve.
Doing Plumbing Work Without a Permit
Homeowners are often unaware that plumbing systems cannot be changed on a whim and that most major plumbing work requires a permit. Permits allow local building officials to monitor renovation projects, ensuring the safety of your home. Carrying out unpermitted work can devalue your home and may also put your family at risk. If you've decided to take on a bigger plumbing project, contact a licensed plumbing contractor who can verify whether you need a permit and help you obtain one.
Working with Inappropriate Tools
Professional plumbing tools are expensive, as some projects may even require specialized equipment; that's why some home DIYers try to make repairs with the few tools they have on hand. Working with unsuitable tools is a common plumbing mistake that can damage pipes, leading to expensive repairs. Trust us, you're better off hiring a professional plumber with an arsenal of tools to solve your plumbing problem!
Poorly Planned Renovation Work
If you have decided to renovate your bathroom, some plumbing work will be unavoidable. You may want to install a new bathroom sink or move the shower. Either way, such a project can't be done well if it's not professionally planned. Before renovating your bathroom, get in touch with a plumbing expert who can help you with the planning and estimate materials and costs. This way, you can get the bathroom you've dreamed of and save yourself some frustration.
Overtightening the Pieces
Another common plumbing mistake that homeowners make is tightening the pieces too much. No matter how sturdy they may be, plumbing fittings should be handled with care and tightened only as much as necessary to perform their job. They do not tolerate abuse and can easily crack if mishandled. Cracked fittings can cause water leaks, which will require a professional to fix.
Joining Copper and Galvanized Pipes
It's not a wild idea to join pipes made of different metals. In fact, professionals also have to do this when it comes to incremental upgrades to existing plumbing systems. Problems arise when two dissimilar metals, such as galvanized steel and copper, are joined together. When joining these metals, you must use a suitable transition fitting, called a dielectric union, to form a barrier against galvanic corrosion.
Ignoring Small Leaks
Small leaks are easy to ignore. Apart from the dripping sound and a few small puddles, they aren't the most annoying things that can happen to your pipes. However, they can signal another issue, such as a bigger leak or a hole in the roof. If you notice any leak, call a professional to help find the source and estimate the damage. The earlier you act, the less expensive the repairs will be.
Using Drain Cleaners
One plumbing maintenance task homeowners like to take on is keeping their drains clean—using chemical drain cleaners. However, drain cleaners can damage galvanized pipes, which will be expensive to repair. Instead of using chemical products, opt for the simple solution of baking soda and vinegar. For slow drains, you can also try a mechanical method, such as a drain snake. If the clog isn't going anywhere, hire a professional plumber with the right tools to deal with any stubborn clogging.
Throwing Trash in the Toilet
Keeping your drains clean is not just about using the right products to unblock them. It's best to avoid getting them clogged in the first place. Too many homeowners are unaware that you can only flush toilet paper down the toilet. Paper towels, hygiene products, and plastic wrap should not go in! If you want to avoid calling the plumber, don't flush down anything other than toilet paper.
Trying to Save Money on the Plumber
As with any other job that requires skilled labor, when hiring a plumber, it's not advised to go with the cheapest option. Budget plumbers often lack the tools and the training to deal with all the scenarios that can happen to your pipes. Even if your budget is tight, find a licensed company with the credentials to do the job right. They may cost a little more than budget plumbers, but the quality of work will pay back the initial investment.
Get in Touch with the Oxnard Water Heater Experts at Gallegos Plumbing
From drain maintenance to bathroom renovations, there are many plumbing projects that homeowners want to do themselves. While some of these DIY projects go smoothly, others end up as costly plumbing mistakes that can only be fixed by a professional. 
Before undertaking any plumbing project on your own, contact experienced plumbers like Gallegos Plumbing to assess the problem and provide you with the most efficient and cost-effective solution.
Gallegos Plumbing is a family-run business serving our community of Ventura and Santa Barbara Counties since 1996. Our goal is to provide our customers with the highest quality plumbing services, responsive customer support, and superior workmanship.
Whether it's a leaky pipe or complete bathroom remodeling, we're happy to assist you with your project. Call Gallegos Plumbing at (805) 243-2622 or fill out the online form to get an estimate.