Restaurants Drain Cleaning Maintenance: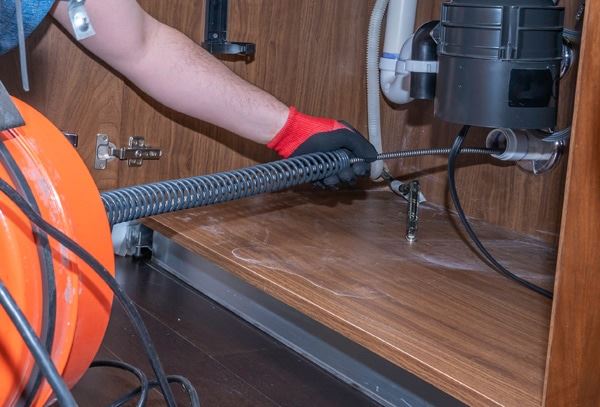 Kitchen sinks are essential to a restaurant and must be in working order. As fate would have it, they're also among the most likely to be used to dispose of substances that aren't fit for your drainage system. As such, we tend to field many clogs in restaurants and commercial kitchens all over Ventura County.
Preventing clogged commercial kitchen drains is vital as clogged sinks interrupt your service, and there's certainly no ideal time for that to happen. Customers have to wait as restaurant drain cleaning experts take care of it, and your employees risk slipping and getting injured because of wet floors. Even worse than that, delaying a call for commercial drain cleaning can cause a stink so bad that it may drive your customers away. It may also cause sanitation and health concerns that can put your restaurant at risk.
So, don't wait for a clogged restaurant drain to become an emergency. Gallegos Plumbing offers professional Camarillo drain cleaning services to help unclog your sink today and help you to ensure that your kitchen drains remain dependable, allowing you to focus on making your customers full and happy.
So how do you prevent your pipes from clogging while your employees discard food and wash dishes? Here are our five best drain cleaning maintenance tips for restaurants:
Table of Contents
Here are our five best drain cleaning maintenance tips for restaurants

1. Don't Pour Fat, Grease, or Oil Down The Drain
2. Use the Garbage Disposal Properly
3. Use Natural Drain Cleaners
4. Regularly Clean Your Grease Trap
5. Get a Commercial Sink Strainer

How Often Should Your Restaurant Drains be Cleaned?
Benefits to Getting Regular Commercial Drain Maintenance
Got a Clogged Drain
Here are our five best drain cleaning maintenance tips for restaurants
1. Don't Pour Fat, Grease, or Oil Down The Drain
Unsurprisingly, the best way to prevent clogged kitchen drains is to be careful about what you pour down them. Most backups in commercial kitchen drains are usually caused by fat, oil, and grease that make it down the drain. As they cool, the liquids solidify, and it's only a matter of time before they build up in the drain and cause a clog. Here's how to dispose of grease properly:
Let it dry completely
Scrape the grease off the pans and into a separate container
Throw it in the garbage
Use something absorbent to wipe fats, oils, and grease from pans before washing them
2. Use the Garbage Disposal Properly
Since clogged garbage disposals can quickly become a nightmare, all your employees must understand what should not be put in a disposal. Avoid placing the following in your kitchen's garbage disposal:
Coffee grounds
Eggshells
Meat and bones
Pasta and rice
Vegetable peels
Paper products
In addition, regularly cleaning your garbage disposal eliminates odors and helps prevent food residue from building up inside your drain pipe.
3. Use Natural Drain Cleaners
Please avoid using commercial chemical cleaners, as they can severely damage your pipes. While these cleaners can be cheap and practical, the harsh compounds they use to clear clogs may do more harm than good. Instead, use a combination of baking soda and vinegar to break down grime and grease. You can also pour hot water and bleach regularly to clear smells.
4. Regularly Clean Your Grease Trap
If your commercial kitchen in Camarillo has a proper grease trap, you're already doing good to prevent clogged drains. However, having a grease trap isn't the same thing as maintaining a grease trap. You must properly clean and maintain your grease trap to avoid grease-clogged drains.
Making sure to have a regular grease trap cleaning process means there won't be an accumulation of old grease, which keeps your kitchen odor-free and leaves you having to clean your grease trap less often.
5. Get a Commercial Sink Strainer
To say that restaurants regularly use their plumbing system is an understatement, so it's wise for business owners in Camarillo to take measures to protect their pipes. However, no matter what steps you take to prevent it, some solids will still go down the drain, and that's where a restaurant sink strainer comes in handy.
Instead of wasting time and money for constant sink issues, investing in a good commercial drain strainer prevents them from becoming blocked in the first place. Food solid separators allow the water from your sinks to seep through its strainer while capturing all the solids that normally clog kitchen pipes.
How Often Should Your Restaurant Drains be Cleaned?
Following these restaurant drain cleaning and maintenance tips will help keep your kitchen drains spotless and odorless. However, despite your best efforts, clogged drains can still happen, and if you're having trouble keeping your kitchen drain clear, it may be time to call a professional plumber.
But how often should you call a kitchen drain cleaning expert for professional drain cleaning in Camarillo?
If you are proactive at keeping your drains clear and clean, you can schedule a drain cleaning and maintenance annually. Grease, fat, and hair are the usual culprits that lead to kitchen drain blocks, so keeping them out of your drains will help them stay clear for longer. That said, if you notice any drain issues before a routine check, it's better to call an expert immediately, as even seemingly minor issues may escalate into big problems.
Benefits to Getting Regular Commercial Drain Maintenance
Drain issues can waste your time, be costly, and hinder daily business at your restaurant. Luckily, with proper preparation, you can avoid some of these situations. Proactive maintenance is a crucial step to take to ensure you avoid significant problems in the future. Here are some reasons you should get regular drain maintenance and how it will benefit you and your wallet in the long run:
Preventative drain maintenance can help avoid expensive and unplanned costs by prolonging or preventing future repairs and replacements. Drain repairs or replacements cost money that isn't in the planned budget and can quickly become very expensive.
Regular drain maintenance can increase the lifespan of your plumbing system by minimizing the damage that accumulates over time.
Preventative drain maintenance helps clear your drains, resulting in faster drainage.
Emergency drain services will be more expensive than preventative drain services and happen at unexpected times, which can cause a loss of revenue by hindering daily business.
Preventative drain maintenance can save you time, help avoid unexpected costs, and support daily business functions. Hence, investing in commercial drain preventive maintenance services can help protect businesses and properties from unnecessary expenses and business losses.
Also Read: How to Properly Maintain Your Drains
Got a Clogged Drain? Our Drain Specialists Can Help!
While these tips will help keep your commercial drains clear, a clogged drain may still happen. If you are dealing with a stubborn or recurring kitchen clog, call Gallegos Plumbing!
Restaurants across Ventura County rely on Gallegos Plumbing to keep their drains functioning correctly! Are you experiencing frequent kitchen drain clogs or nasty odors in your Camarillo restaurant? Our Camarillo drain repair specialists provide industry-leading drain cleaning and maintenance services that'll extend the lifespan of your drains and pipes and prevent other plumbing problems.
When you have a grease buildup in your pipes, you need the fastest and highest quality solution. Contact Gallegos Plumbing today for skilled, affordable, and trustworthy service guaranteed to keep your pipes clean! Our Ventura County technicians have over 25 years of plumbing experience and we also offer emergency plumbing services because plumbing issues can happen anytime.
Call (805) 243-2622 today to schedule an appointment!