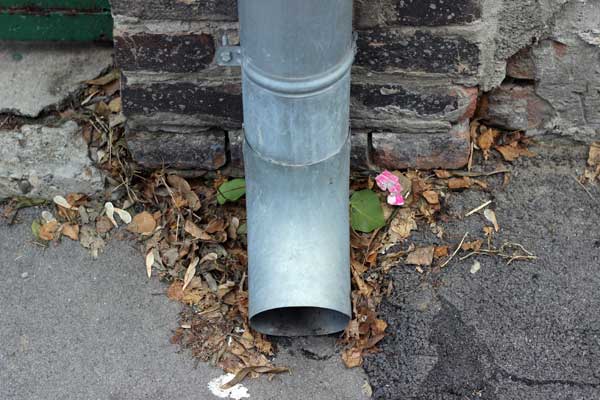 It may be the middle of a hot summer right now, but the Fall season will be here and soon. Soon, the leaves will be falling and filling up your gutters. It is that very reason why a homeowner needs to be vigilant about checking and cleaning their gutters. Without proper gutter and downspout drain cleaning, debris like leaves and twigs will build up and clog the drains, causing water to back up under the shingles and find its way into the walls.
Gallegos Plumbing professionals are proud to offer a full spectrum of drain cleaning and plumbing solutions that are cost-effective for our neighbors in Ventura and surrounding communities in Southern California.
Let's Explore Everything About Keeping Downspout Drain Clean:
» The Workings of Gutters and Downspout Drain Cleaning
» How To Tell If Your Gutters are Clogged?
» Where Are Clogs Mostly Like Found?
» How Can You Remove a Clog?
» Let the Pros Unclog Downspout Drains
The Workings of Gutters and Downspout Drain Cleaning
Downspouts and gutters are susceptible to clogs. When they become clogged, they can't do what they are designed to do – redirect rainwater from the roof edge to the downspout and away from the house and its foundation. Depending on the landscape situation of a home, a downspout may be connected to an underground drain pipe that sends water away to dry-well or storm sewers, and they too are susceptible to clogs.
Gutter and downspout drain cleaning is essential to so these accessories to your home can move water out and away from your basement and foundation, keep them from being flooded in rainy seasons. This process helps prevent ice from forming from melting snow during the winter.
Gallegos Plumbing professionals have the experience and tools to inspect the drain line and gutters, then do a thorough plumbing service that get them unclogged and flowing again.
How To Tell If Your Gutters are Clogged?
Obvious indicators of clogged drains would be:
Water spilling out over the gutter edges
Water leaking through the elbow and seams of the gutters
Water isn't flowing from the downspout when raining
Under the gutter, the siding on the house is dirty
Gutters are pulled away from the house
Moisture or paint peeling on siding
Where Are Clogs Mostly Like Found?
You'll like to find clogs at the downspout cage, the downspout elbows, and seams. If these areas seem to be in good condition and you have an underground drain, you'll need to call a professional plumber to inspect that drain. With frequent downspout drain cleaning, these things shouldn't happen.
Also Read: How to Clear a Clogged Drain
Can You Remove a Clog?
Remove the downspout from the drainpipe and examine it. You may be able to reach inside and remove whatever is causing the clog. You can also use a plumbing snake, long screwdriver, or a water hose to clean the downspout and drain. Use extra care while doing this, so you don't damage the downspout, drain, or gutter system.
Let the Pros Unclog Downspout Drains
If you suspect you have clogged underground drain pipes, call Gallegos Plumbing. We are the renowned name for drain cleaning professionals in Ventura County with years of experience in drains, sewage and septic systems get cleared and running smoothly in no time! Give us a call today at (805) 243-2622 and schedule your downspout drain cleaning appointment today. Contact us or like us on Facebook!