Commercial Drain Cleaning for Restaurants
Running a restaurant means you have to take care of several things. However, your outdoor drains remain one of the most overlooked aspects of your restaurant. Commercial drain cleaning not only prevents clogging but also saves you from expensive repairs in the future.
At Gallegos Plumbing, we offer commercial drain cleaning to keep the drains at your restaurant clean too.
Let's Explore How to Keep Commercial Drains Clean to Avoid Health Hazards.
» Installing Grease Traps Clean
» Choose Natural Solutions
» Take Care of Food Scraps
» Get a Drain Cover
» Run Hot Water Frequently
Installing Grease Traps Clean
Grease traps offer an effective way to keep your drains in great shape. These traps ensure that certain materials do not enter your plumbing system to clog your restaurant's kitchen drains. Fats and oils are the main culprits since restaurants use them heavily in their daily operations.
Make sure you stick to a regular grease trap cleaning schedule and know how often you need to pump your grease traps. Call your professional plumbers near you, Gallegos Plumbing, at (805) 243-2622 today.
Choose Natural Solutions
You don't have to go for a harsh chemical drain cleaner for fixing a minor clog. Most cleaners contain compounds and ingredients that can cause irreversible damage to your drain pipes. Thus, using a natural mixture of vinegar and baking soda can be an easy tip for flushing grease and grime. If you want to clear smells, try using some bleach with hot water. Don't worry; these solutions won't cause any damage to your pipes. Just make sure you don't experiment with any new cleaning solutions and stick to proven remedies. Try these natural drain cleaners to clean a sink drain.
Take Care of Food Scraps
Even if small food scraps go down your restaurant's drain pipes, it can damage your plumbing system over time. Hence, your employees must clean off all plates thoroughly by disposing of all leftovers in a trash can. This little effort can save you from hefty repair bills and prevent your drains from clogging.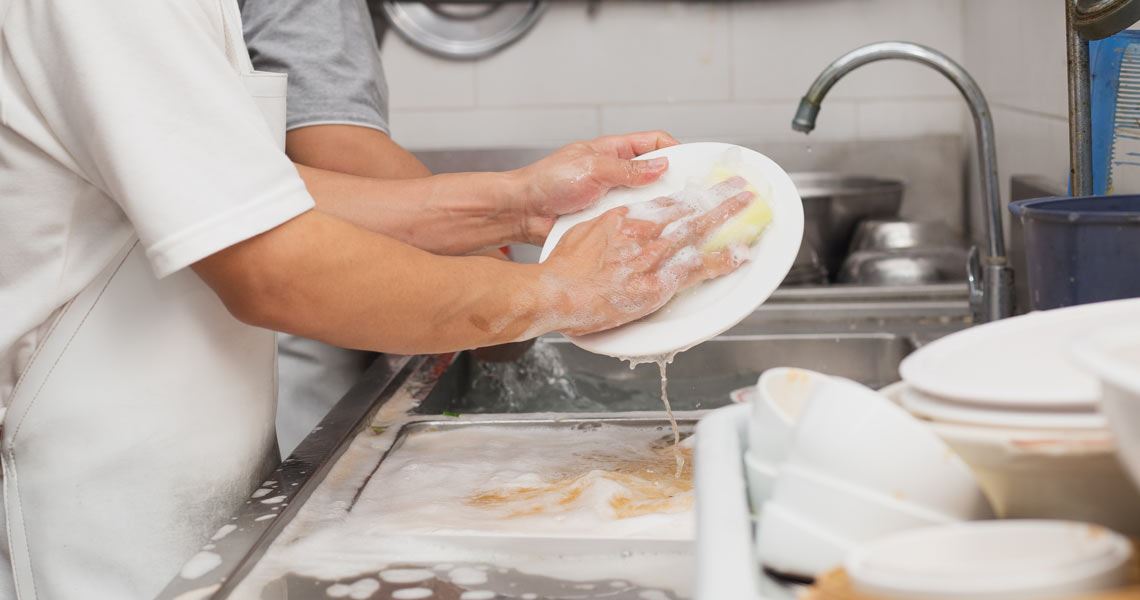 Get a Drain Cover
The best way to keep out debris is to install a grate or a drain cover. Doing so will ensure that your grease traps and pipes remain cleaner. Installing a drain cover will not cost you too much and saves you from costly plumbing repairs.
Run Hot Water Frequently
Even when you take care of your drain pipes, some grease is likely to make its way through your restaurant drain. Running hot water down your sink can help you liquefy these materials to maintain a smooth drain flow.
Also Read: DIY tips for clearing a clogged drain.
Seek Professional Help
Commercial drain cleaning is not a DIY project. Contacting a professional drain cleaning service like Gallegos Plumbing for your commercial business will make sure you prevent clogging your drains. We are the best plumbers in the industry to ensure that your restaurant's plumbing system remains in great condition.
Your Trusted Commercial Drain Cleaner in Ventura County
To learn more about our drain cleaning services for commercial Areas, feel free to get in touch with Gallegos Plumbing at (805) 243-2622 or request service online today. When you're in need of a drain cleaning professionals, we're ready to help. We provide professional commercial drain cleaning services to help your business maintain hygiene and a safe environment. We provide the best services in the Ventura County Area for your restaurant or any commercial business.